Battle of South China Sea (Cruenta Humanitas)
Talk

0
Share
Ad blocker interference detected!
Wikia is a free-to-use site that makes money from advertising. We have a modified experience for viewers using ad blockers

Wikia is not accessible if you've made further modifications. Remove the custom ad blocker rule(s) and the page will load as expected.
Battle of South China Sea
Date
17 June – 15 August 2037
Location
South China Sea, Manila
Result
Decisive Chinese victory
Philippines capitulates
Chinese Occupation of Manila.

Belligerents
Strength
China:
37, 000 men, 1,200 armored units
300 aircraft
3rd Fleet


Allies:
99, 250 men, 1,689 armored units
300 aircraft
Casualties
Military casualties:
2, 647 killed
Civilian Casualties:
None


Military casualties:8,100 killed, 91, 150 captured,
all equipment lost or captured
Civilian Casualties:
11,117 killed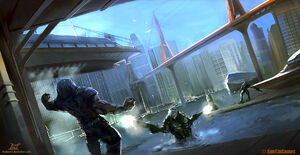 In the
WWIII
, the Battle of Manila was the successful Chinese destruction of Philippines' forces and the invasion of their capital Manila. The battle is divided in two phases, the first one begins the morning of 17 June 2037 with operation Ziyou, which consisted in a large scale scale attack to the Philippines' air, sea and ground forces. The second phase starts in August 1st, when
China
detonates an Electromagnetic Pulse Bomb (EMPB) over Philippines in order to invade a country with its military decimated by the previous campaign and with its communications crippled.
Seven thousand Chinese soldiers equipped with wing-packs launched from a fleet of VTOLs invade the burgeoning metropolis of 22 million inhabitants, Manila, on August 2nd.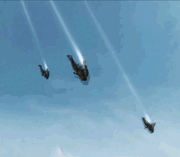 The initial invading force was reinforced by other 25,000 chinese troops in the later days.

The fact that the Philippines was a major USA ally in the Pacific and that Philippines restricted Chinese access to the fish in South China Sea encouraged de Chinese to declare war to the Filipinos.
.