Chthonios is a 2015 film produced by Calvin Sedlak about a giant mutated earthworm that feeds on nuclear power but in doing so, wreaks havoc on everything it comes across, a group of scientists and military personnel attempt to kill it before it causes more damage. The name is derived from the greek meaning,"from under the Earth."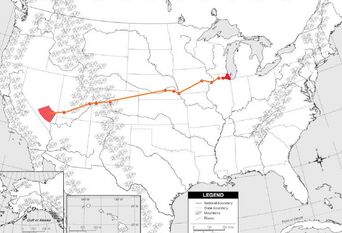 Plot
An earthquake caused by hydraulic fracking conducted in Colorado, releasing a bus-sized earthworm into the wild.
Sheridan started his day waiting for a phone call from his ex-wife who came to drop off their daughter for the weekend. All of a sudden, a major earthquake strikes Chicago, aftershocks with similar intensity continue shortly thereafter. Seemingly unphased and believing that it was an atypical earthquake, it is soon discovered that the earthquakes and aftershocks are due to a gigantic one-thousand foot long, one-hundred foot diameter earthworm ravaging the city.
Earlier on the news it is hinted at a bunch of tourists that went missing in Zion National Park in Utah and the destruction of the Delicate Arch in Utah. As well as, a very powerful earthquake swarm that destroyed Grand Juncton and Denver, Colorado. Including the sinking of Grand Island, Nebraska and a major earthquake in Iowa. Followed by a series of foreshocks in Northern Illinois prior to the worm revealing itself in Chicago. It is eating entire nuclear power plants. 
Worm charming.
Characters
Dr. Kara Bracken-Sheridan - An oligochaetologist working at Northwestern University in Chicago, Illinois who is laid off due to budget shortfalls.
Mark Sheridan - Kara's accountant ex-husband working in Downtown Chicago.
Nikki Sheridan - Kara and Sheridan's daughter who gets lost in Chicago after Chthonios arrives.
Genesis of the idea
- Godzilla (1998), Cloverfield (2008), Pacific Rim (2013)
Suggestions