Domum Ruber (Gliesse 667 a)
Astrographical
Region

Local Cluster

Sector

Human Controlled Space

System
Suns

2

Orbital position

1st

Moons

Omorfos (Earth's Moon size),
Kosmima & Elmere (Asteroid sized)

Distance from Core

22.1 ly from Earth

Rotation period

26h 01m 34s

Orbital period

484 days (296 Earth's days)

Class

Garden type planet, Terraformed

Diameter

11,545 km

Atmosphere

77.07% Nitrogen
21.06% Oxigen
0.63% CO2

Climate

Min -92ºC
Average 19ºC
Max 57ºC

Gravity

0.98 G (9.73 m/s2)

Primary terrain

Mostly plains. Mountainous

Surface water

69%

Native flora

Native red proto-algae.
Agricultural interest

Native fauna

Poor, mostly fishery

Societal
Native species

Red proto-algae

Primary language(s)

Many; mainly:
english
spanish
mandarin

Government

Protectorate

Population

98 million

Major cities

Nandanakanana
Mpya Nyumbani
New Chittagong

Major imports

Heavy industry products
Manufactured products

Major exports

Raw materials, food

Affiliation
The planet name (latin for Red Home) was given to it after the only native spieces of the planet: a red proto algae, an oxygen-productor that resembles that of Earth's but works on chemical energy instead of solar. The planet was discovered in 2099 and first explored in 2139, but the terraforming process was begun in 2152 and finished in 2161.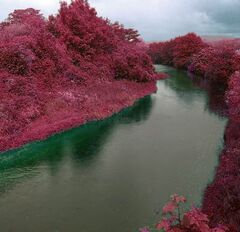 When the planet was first discovered, it has characteristics similar to those of Earth 4 billion years ago.
The firsts waves of colonization were full of Earth's climate refugees; specially from South Asia, where the number of refugees with high studies (university) were high.
Travel time to*:
    *With human Alcubierre Drive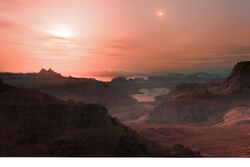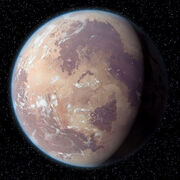 Ad blocker interference detected!
Wikia is a free-to-use site that makes money from advertising. We have a modified experience for viewers using ad blockers

Wikia is not accessible if you've made further modifications. Remove the custom ad blocker rule(s) and the page will load as expected.