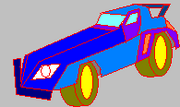 MTX Great Ripper is the most powerful MTX models. In city, it is able to smash over 40 cars per minutes.
Price and Options
Users can customized their cars, but the base price is 40 000 dollars. It is a very low price thanks to the serial production of those monster truck. The most customized versions have steel wheels and they are able to smash complete trucks, costing over 200 000 dollars.
Ad blocker interference detected!
Wikia is a free-to-use site that makes money from advertising. We have a modified experience for viewers using ad blockers

Wikia is not accessible if you've made further modifications. Remove the custom ad blocker rule(s) and the page will load as expected.