Home
Talk

10
1,426pages on
this wiki
Welcome
Welcome to Creative Sci-Fi Wiki, the place for those who like to tell a good story. Have you ever seen or read a sci-fi story and thought you could write a better one? Have you been told countless times that if you think you can do better, do it? Rejoice, for your search is over. Here at Creative Sci-Fi Wiki, you can create your own science fiction/fantasy universe that would be more than a match for settings such as Star Trek or Star Wars. Creative Sci-Fi Wiki is Wikia's best kept secret, it is past time for this secret to come out!
This is the Wiki for those extreme Science-Fiction fans who wish to create their own sci-fi settings and adventures. In this Wiki you can write about:
Futuristic Sci-Fi universes, including:

Apocalyptic and Post-apocalyptic futures
Galactic Empires

Parallel/Alternative Realities, including:

Present or Futuristic worlds based on altered history.
Wormhole universes or cross-reality travel.

Comics, including:

Superhero stories.
Science Fiction stories.

Imagined Creatures, Sciences and Technology, such as:

Robots
Spaceships
Alien Races
Mutations
And anything else you think of!

And the only tool you need is your imagination. Try it out!
To create a new science fiction project or article, just enter the title in the box below and click 'create page'.

See also:
Featured Article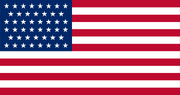 The
United States of America
is one of many national governments that exist on the planet
Earth
. The U.S. was an innovator of science and mathematics during the 20th century accomplishing many feats including the landing of humans on an extraterrestrial body. The country's influence waned during much of the early 21st century, but quickly rebound during the People's Republic of China's change to democracy in the 2040s.
more...
---
Recent Wiki Activity:
Blogs
Create blog post
So it's still been a long time since I've been here sad to say XD, but I am still minding on my vehicle fiction The After War Crisis. For the most part I've totally started with footing of the settin…

Read more >

Welcome to the second installation of Author's Notes. I know I was supposed to talk about the mood and tone of the setting but I felt the final draft wasn't up to snuff. That topic will resurface som…

Read more >

Welcome to the first installation of Author's Notes, a new series of blog posts meant to give you all insight into the thought that goes into The Teggedon Spiral Chronicles. This week, we explore the…

Read more >
See more >