MISTER-DREAM KIWANGA IS A KIWANGA WRITTEN AND CREATED BY PIVOROD IN 2006-2099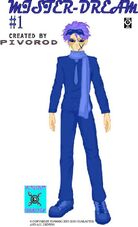 MISTER-DREAM follows the adventures of MISTER-DREAM(YEN VOLKA) A JAPANESE, GREENWORLDER, WHO FINDS OUT THAT HE HAS THE POWERS OF THE TIME, AND GOES OUT TO SAVE THE UNIVERSE FROM EVIL, MAINLY AID-GUY AND ANY OTHER KIND.
Ad blocker interference detected!
Wikia is a free-to-use site that makes money from advertising. We have a modified experience for viewers using ad blockers

Wikia is not accessible if you've made further modifications. Remove the custom ad blocker rule(s) and the page will load as expected.