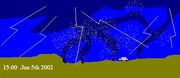 Tornado Designers Inc is a company that creates tornadoes and super cells in the country of Otoki. They use the new MesoCyclone Generator Plus (TM). When tornado chasers want a tornado, they pay to Tornado Designers Inc, specifing strenght, time and type (stronger tornadoes are more expensive, of course) and Tornado Designers Inc send the storms.
Ad blocker interference detected!
Wikia is a free-to-use site that makes money from advertising. We have a modified experience for viewers using ad blockers

Wikia is not accessible if you've made further modifications. Remove the custom ad blocker rule(s) and the page will load as expected.