Ad blocker interference detected!
Wikia is a free-to-use site that makes money from advertising. We have a modified experience for viewers using ad blockers

Wikia is not accessible if you've made further modifications. Remove the custom ad blocker rule(s) and the page will load as expected.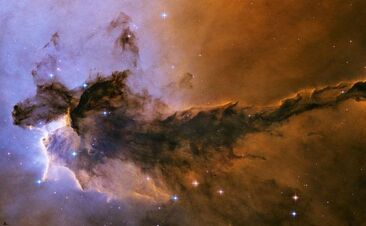 The Infinity Drive is a propulsion system of traveling faster than the speed of light, derived from alien technology. The technology was discovered in the 2470.
Basis of the drive
By the year 2470, humanity had discovered the ability to travel faster-than-light through Infinity drive. A Infinity drive is capable of decreasing the mass of a starship, essentially allowing it to ride a beam of light, and eventually the starship rides a tachyon wave like a zipline through to its target location. The infinity drive moves the starship through space at such a high-rate of speed that the ship ultimately phases out of existence passing through objects on its way to its final location. Near-instantaneous transit anywhere in the galaxy, maybe even cosmos.
CUT BELOW?
Mathematical and probabilistic
Where the speed of a vessel (measured in multiples of c, the speed of light) is equal to the cube of the given class.
with
v being the speed of the signal or starship
c being the speed of light (3.0 × 108 m/s) and
wf being the resulting sprint class
At the speed of light, a starship would reach c; at class 5, it would reach 216 c. 
Sprinter drive time table
| | FTL multiplier | 5 light years | 20 light years | 10,000 light year | Nearby galaxy | Notes |
| --- | --- | --- | --- | --- | --- | --- |
| Standard orbit | <0.00001 (9600 kph) | 558,335 years | 2 million years | 1 billion years | 223 billion years | synchronous orbit around a planet |
| Maximum sublight | 0.25 | 20 years | 80 years | 40,000 years | 8 million years | Normal maximum speed for sublight for efficiency and avoid severe effects of relativity, used in solar sails |
| Light speed | 1 | 5 years | 20 years | 10,000 years | 2 million years | Speed of light: C=299,792 km/s |
| Class 1 sprint | 10x | 6 months | 3 years | 992 (1,000)years | 198,425 (200,000) years | First level to be considered a sprint |
| Class 2 sprint | 40x | 2 months | 1 year | 257 years | 51,360 (50,000) years | Considered to be an average cruising speed |
| Class 3 sprint | 100x | 18 days | 2 months | 98 (100) years | 19,686 (20,000) years | |
| Class 4 sprint | 200x | 9 days | 1 month | 47 (50) years | 9,357 (10,000 years) | Considered to be a maximum speed for the most common civilian starships |
| Class 5 sprint | 400x | 5 days | 19 days | 25 years | 5,096 years | Cruising speed of most military starships |
| Class 6 sprint | 650x | 3 days | 11 days | 15 years | 3,048 years | Cruising speed for the Ibn Battuta |
| Class 7A sprint | 1,000x | 2 days | 1 week | 10 years | 1,953 (2,000) years | Maximum speed for the most advanced military ships. |
| Class 7B sprint | 1,500x | 1 day | 5 days | 7 years | 1,319 years | Maximum speed for the Ibn Battuta |
| Class 7C sprint | 3,000x | 15 hours | 3 days | 4 years | 678 years | The Ibn Battuta has been known to exceed to 3,000 times light speed on very rare occausions, as it damages the membrane of the ships FTL systems. Can only be used for quick boosts. |
Suggestions
21ST CENTURY- (20XX): WITHIN SOLAR SYSTEM-RESTRICTED/SYNCHRONOUS ORBIT.

CROSE ERA- (21XX): MISSIONS TO URANUS/NEPTUNE, NO INTERSTELLAR MISSIONS, BUT IT IS POSSIBLE TO ACCELERATE ¼ OF THE SPEED OF LIGHT. 20 YEARS TO MOVE 5 LIGHT YEARS. 4X4=16 YEARS TO GET THERE. BY 2140~
23RD CENTURY- (22XX): FIRST OFFICIAL SUBLIGHT MISSIONS TO NEARBY STARS. 80 YEARS TO REACH 20 LIGHTYEARS. </li>
24TH CENTURY- (23XX):

LIGHTSPEED FIRST ACHIEVED. 11 HOURS ACROSS SOL, 4 YEARS TO REACH NEARBY STAR, 20 YEARS FOR 20 LIGHTYEARS. BY 2390. CAN BE MAINTAINED FOR 10 YEARS, WOULD TAKE 1 YEAR TO RECHARGE. RANGE: 5 LIGHT YRS PLUS RETURN.

</li>
25TH CENTURY- (24XX): EARLY CENTURY. </li>
10X- 1 HOUR ACROSS SOL, 6 MONTHS TO MOVE 5 LIGHTYEARS, 3 YEARS TO REACH 20 LIGHTYEARS- CLASS 1 SPRINT: FIRST LEVEL SPRINT. ALPHA CENTAURI- 5 MONTHS. EPSILON ERIDANI- 1 YEAR. VEGA- SLIGHTLY OVER 2 YEARS. 100LY- SLIGHTLY OVER 9 YEARS. 200 LY- NEARLY 19 YEARS. 500 LY- 47 YEARS. CAN BE MAINTAINED NONSTOP FOR, WOULD TAKE 7.5 YEARS NONSTOP, WOULD TAKE 9 MONTHS TO RECHARGE. RANGE: 35 LIGHTYRS PLUS RETURN.

</li>
40X- 17 MINUTES ACROSS SOL, 2 MONTHS TO MOVE 5 LY, 1 YEAR TO REACH 20 LY- CLASS 2 SPRINT: AVERAGE CIVILIAN SPEED. ALPHA CENTAURI- 37 DAYS. EPSILON ERIDANI- 90 DAYS. VEGA- 213 DAYS. 100LY- 852 DAYS (NEARLY 2 YEARS) 200 LY- 1703 DAYS/NEARLY 5 YEARS. 500 LY- NEARLY 12 YEARS. CAN BE MAINTAINED NONSTOP FOR 5 YRS, WOULD TAKE 6 MONTHS TO RECHARGE. RANGE: 100 LIGHTYRS PLUS RETURN.

</li>
100X- 7 MINUTES ACROSS SOL, 18 DAYS FOR 5LY, 2 MONTHS TO REACH 20LY- CLASS 3 SPRINT: UNASSIGNED GENERATION. ALPHA CENTAURI- 15 DAYS. EPSILON ERIDANI- 37 DAYS. VEGA- 88 DAYS. 100LY- 352 DAYS. 200 LY- NEARLY 2 YEARS. 500 LY- NEARLY 5 YEARS. CAN BE MAINTAINED FOR ABOUT 4 YEARS NON-STOP, WOULD TAKE 4 MONTHS TO RECHARGE. RANGE: 200 LIGHTYRS PLUS RETURN.

</li>
200X- 3 MINUTES ACROSS SOL, 9 DAYS FOR 5LY, 1 MONTH TO REACH 20 LY- CLASS 4 SPRINT: MAXIMUM FOR CIVILIAN SHIPS. ALPHA CENTAURI- 7 ½ DAYS. EPSILON ERIDANI- 18 ½ DAYS. VEGA- 44 DAYS. 100LY- 178 DAYS. 200 LY- 356 DAYS. 500 LY- 889 DAYS. CAN BE MAINTAINED FOR ABOUT 3 YEARS NON-STOP, WOULD TAKE 3 MONTHS TO RECHARGE. RANGE: 300 LIGHTYRS PLUS RETURN.

</li>
400X- 2 MINUTES ACROSS SOL, 5 DAYS FOR 5 LY, 19 DAYS FOR 20 LY- CLASS 5 SPRINT: CRUISING SPEED OF MOST MILITARY SHIPS. ALPHA CENTAURI- 4 DAYS. EPSILON ERIDANI- 9 DAYS, 8/9 HOURS. VEGA- 22 DAYS. 100LY- 90 DAYS. 200 LY- 180 DAYS. 500 LY-450 DAYS. CAN BE MAINTAINED FOR ABOUT 2 YEARS NON-STOP, WOULD TAKE 2 MONTHS TO RECHARGE. RANGE: 400 LIGHTYRS PLUS RETURN.

</li>
650X- IBN BATTUTA CRUSING SPEED: 2 MINUTES ACROSS SOL, 3 DAYS FOR 5LY, 11 DAYS FOR 20 LY, 15 YEARS FOR 10,000 LY. CLASS 6 SPRINT. CAN BE MAINTAINED FOR A YEAR NON-STOP, RECHARGE WOULD TAKE A MONTH. 2 DAYS, 10 HOURS TO ALPHA CENTAURI (4.37 LY). 6 DAYS TO REACH EPSILON ERIDANI (10.5 LY). 2 WEEKS TO VEGA (25 LY). 55 DAYS TO 100 LY. 111 DAYS FOR 200 LY. 139 DAYS FOR 250 LY. MOVE 500 LIGHTYEARS WOULD TAKE 9 MONTHS, A WEEK AND 6 HOURS. RANGE: 500 LYS.

</li>
1,000X MAXIMUM SPEED FOR MOST ADVANCED MILITARY SHIPS: 39 SECONDS ACROSS SOL, 2 DAYS FOR 5LY, 1 WEEK FOR 20 LY, 10 YEARS FOR 10,000 LY.- CLASS 7A SPRINT. ALPHA CENTAURI- 1 DAY, 10 HOURS. EPSILON ERIDANI- 4 DAYS. VEGA- 9 DAYS. 100LY- 36 ½ DAYS. 200 LY- 73 DAYS. 500 LY- 182 DAYS. CAN BE MAINTAINED FOR A MONTH NON-STOP, RECHARGE TAKES A WEEK. RANGE: 600 LYS.

</li>
1,500X - MAXIMUM SPEED FOR IBN BATTUTA: 26 SECONDS ACROSS SOL, 1 DAY FOR 5LY, 5 DAYS FOR 20 LY, 7 YEARS FOR 10,000 LY- CLASS 7B SPRINT. CAN BE MAINTAINED FOR A WEEK, RECHARGE TAKES A DAY. ALPHA CENTAURI- 1 DAY. EPSILON ERIDANI- 2 DAYS, 12 HOURS. VEGA- 6 DAYS. 100LY- 24 DAYS. 200LY- 48 DAYS. 500LY- 120 DAYS. RANGE: 700 LYS.

</li>
IBN BATTUTA EXCEEDS 3,000X LIGHTSPEED ON VERY RARE OCCASIONS, QUICK BOOST: 13 SECONDS ACROSS SOLAR SYSTEM, 15 HOURS TO 5LY, 3 DAYS TO 20 LY, 4 YEARS TO 10,000 LY. QUICK BOOST BEING A SHORT JUMP, LASTING LESS THAN A DAY, RECHARGE TAKES A WEEK. ALPHA CENTAURI- 10 HOURS. EPSILON ERIDANI- 1 DAY, 4 HOURS. VEGA- 3 DAYS. 100LY- 12 DAYS. 200 LY- 24 DAYS. 500 LY- 60 DAYS.

</li>